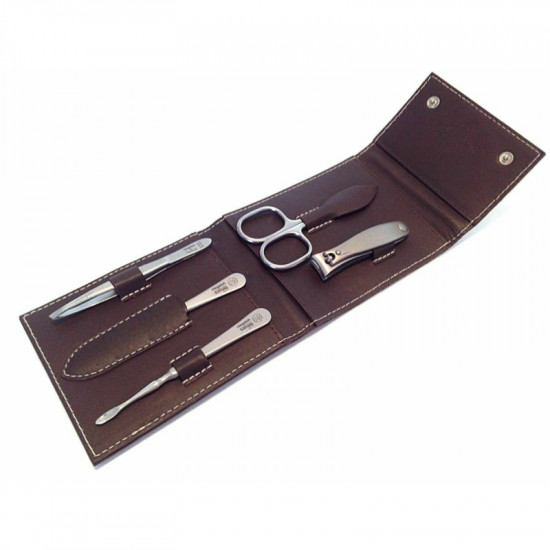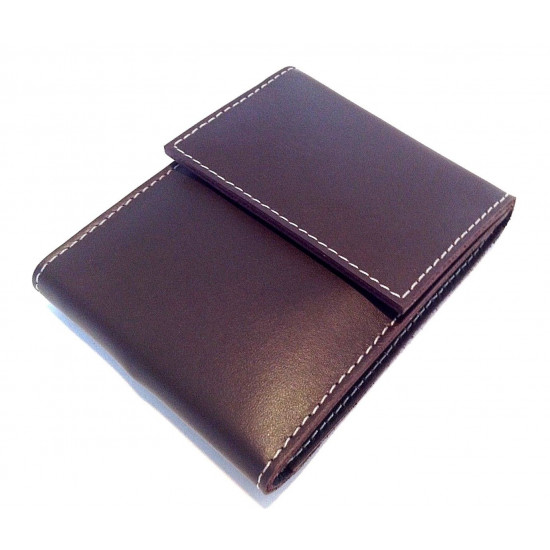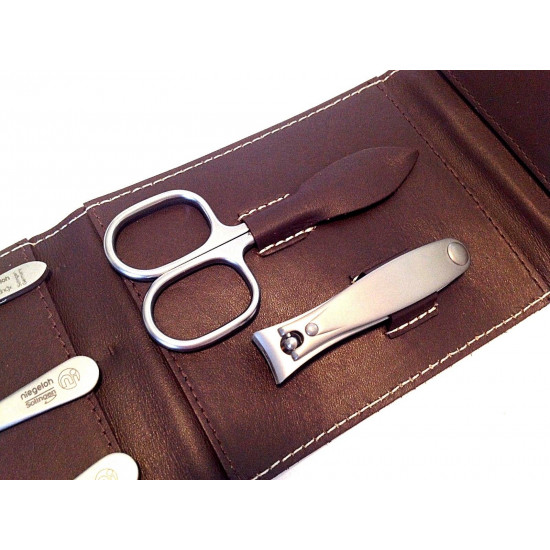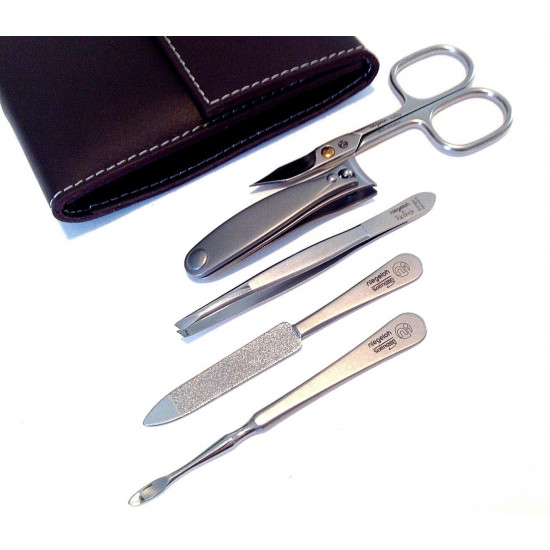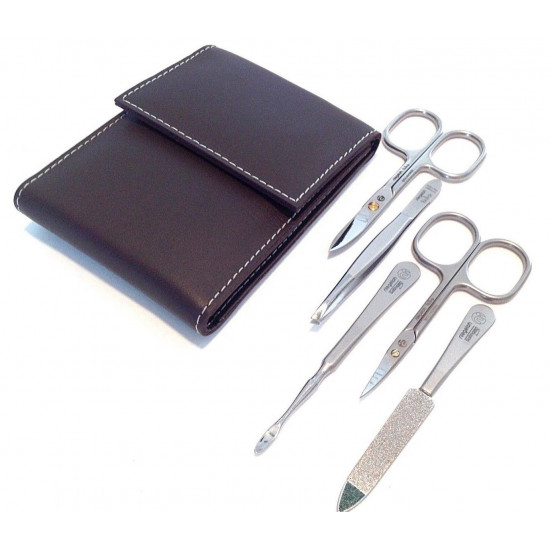 Niegeloh Solingen Large - 5 pcs TopInox® matte Best Mens Stainless Steel manicure set Germany
TOPINOX® LARGE - 5 PCS MATTE STAINLESS STEEL MANICURE SET BY NIEGELOH SOLINGEN GERMANY
Design by Niegeloh, quality made in Solingen
Pure nature, straight lines and distinctive appearance is his style. He is focused on individuality and function. His Personality is reflected in masculine characteristics of these extraordinary cowhide leather sets magnifying the fine yet functional tools. A must have for that bold, resolute man.
Topinox stainless steel is Niegeloh's best in professional quality and it is specially tempered, to ensure it keeps its hardness, and consequently, sharpness of the cutting edge for a very long time.
This men's manicure set comes in a vegetable-tanned saddle leather case, which includes 5 amazing TopInox® stainless steel instruments. The Combination Nail and Cuticle Scissors, Nail Nippers , Nail Cleaner, Slanted Tweezers and Stainless Steel Nail File, you know that you're getting the best for your nails. Niegeloh is proud of each instrument as they have all been handcrafted by experts in Solingen, Germany and they are made to last a lifetime. Niegeloh is so confident in their products that they offer a lifetime warranty if there are any manufacture defects.
Forged out of TopInox stainless steel, these instruments are rust-free, anti-allergic and intended for sterilization, do not contain any nickel, important for those with sensitive skin or nickel-related allergies. It is highly durable, compact, and efficient. Up to 18 grinding steps are done on each pair to ensure the blades are perfectly sharpened and leave healthy-looking nails.
Gorgeous in every way, this manicure gift set includes 5 pcs. high quality Rust Free and Allergy Free TopInox manicure instruments:
Combination Nail and Cuticle Scissors

Nail Clipper

Stainless Steel Nail Cleaner

Slanted Tweezers

Stainless Steel Nail File
L - 5 PIECES SET

Material: TopInox Stainless Steel Made in Solingen Germany
Finish: Matte By Niegeloh
Number of pieces: 5
Case Information

Color: Dark Brown

Material: Leather

Width: 2.5 inch

Length: 4.5 inch
Best vegetable-tanned saddle leather covers both the inside and outside of the case
Size: 80 x 115 x 30 mm
Made in Solingen Germany by Niegeloh - Luxury Since 1936
100 DAY GUARANTEE - Return during the first 100 days when you buy from Shpitser. Follow the return instruction.
Manufactured by Niegeloh Solingen Germany. Family tradition since 1936.
Niegeloh stands behind all their products because each instrument is individually and precisely ground, sharpened, assembled, adjusted, and tested by expert hands.
Niegeloh Solingen is the world leader in producing the highest quality manicure and pedicure instruments distinguished by workmanship design and function.
Атрибуты
Material
TopInox Stainless Steel
Finish
Matte
Number of pieces
5
Country
Made in Germany
Manufacturer
by Niegeloh Solingen
Case Color
Tobacco
Case Material
Leather
Width
3.25 inch
Length
4.5 inch
Unlimited Blocks, Tabs or Accordions with any HTML content can be assigned to any individual product or to certain groups of products, like entire categories, brands, products with specific options, attributes, price range, etc. You can indicate any criteria via the advanced product assignment mechanism and only those products matching your criteria will display the modules.
Also, any module can be selectively activated per device (desktop/tablet/phone), customer login status and other criteria. Imagine the possibilities.
Stock:

In Stock

Model:

86878 -190

Dimensions:

8.50cm x 11.50cm x 3.00cm