SOLINGEN QUALITY AT A GREAT PRICE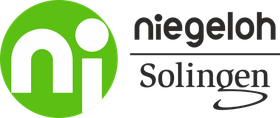 Long-standing tradition
Since the foundation of the company, Niegeloh manufacture scissors made from a special C45 carbon steel. This material shows an excellent hardening performance. These scissors are nickel-plated, which is approved as long-term rust protection. The brushed finish gives this instrument a very high quality looking surface. The pointed tip makes cutting in small areas much easier. Quality made in Solingen.
NAIL SCISSORS

Material: C45 carbon steel
Finish: Nickel Plated with brushed finish
Joint: Screw
Shape: Curved
Size: 9cm
Quantity: 1 Nail Scissors in Original Niegeloh Package.
Атрибуты
Material
C45 carbon steel
Finish
Nickel Plated with brushed finish
Joint
Screw-Joint
Size
9cm
Shape
Curved