SOLINGEN QUALITY AT A GREAT PRICE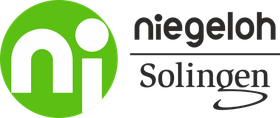 Long-standing tradition
Since the foundation of the company, Niegeloh manufacture scissors made from a special C45 carbon steel. This material shows an excellent hardening performance. These scissors are gold-plated, which is approved as long-term rust protection. The brushed finish gives this instrument a very high quality looking surface. The curved extra pointed tips make cutting in small areas and trimming cuticles or nails simple.
24K gold plated. Quality made in Solingen.
COMBINED NAIL AND CUTICLE SCISSORS

Material: C45 carbon steel
Finish: 24K Gold Plated with brushed finish
Joint: Screw
Shape: Curved
Size: 9cm
Quantity: 1 Combined nail and cuticle scissors in original Niegeloh package.
Атрибуты
Material
C45 carbon steel
Finish
24K Gold Plated with brushed finish
Joint
Screw-Joint
Size
9cm
Shape
Curved