SOLINGEN QUALITY AT A GREAT PRICE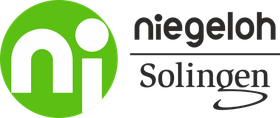 Long-standing tradition
Since the foundation of the company, we manufacture scissors made from a special C45 carbon steel. This material shows an excellent hardening performance but is prone to rust. Therefore, these scissors are nickel-plated, which is approved as long-term rust protection. The brushed finish gives this instrument a very high quality looking surface. Baby scissors have extra thin blades for babies' soft nails and a rounded tip for a safe trim. Quality made in Solingen.
BABY SCISSORS

Material: C45 carbon steel
Finish: Nickel Plated with brushed finish
Joint: Screw
Shape: Curved
Size: 8cm

Comes in Original Niegeloh packaging
Ships same Business day.