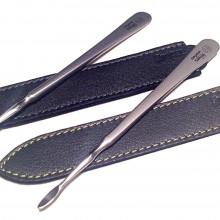 Implements for men
Well-groomed hands should be not only for women but men also often undergo a hygienic manicure procedure. This can be done in the salon, but some prefer to do it on their own, using special manicure Implements for men. Simply cutting fingernails and cutting off dead skin in the area of ​​the nail rollers and cuticles requires only a few tools:
• scissors;
• special cleaner - the working surface of the product has the shape of a scapula, it is convenient for it to move the cuticle, to clean the dirt under the nails.
Tools can be made of stainless steel, which is easy to disinfect, perfectly tolerates moisture and is characterized by long shelf life. There are also products with nickel and gold plated.
Showing 1 to 10 of 10 (1 Pages)