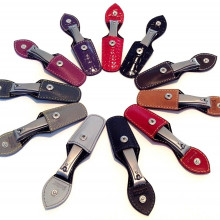 Professional nail clippers are indispensable accessories that are needed to perform a manicure or pedicure procedure.
NAIL CLIPPER - FOR MANY PEOPLE ESSENTIAL FOR CUTTING THE HAND NAILS AND TOE NAILS
Due to the ergonomic design, the clipper is particularly comfortable in the hand. The curved and hardened cut surfaces allow precise cutting of the nails. Our clippers are made of stainless steel, they are antiallergic and sterilizable.
The advantage of a nail clipper compared to nail scissors is that when used, hardly any cracks occur in the horn plate of the nail. The nail is not stressed on one side, as is usual with shears, but the pressure through the parallel cutting surfaces is evenly distributed evenly over the nail parts to be separated.
Showing 1 to 25 of 25 (1 Pages)